Routine dental care matters.
We all want our pet's breath to smell a little…less stinky, but did you know that healthy teeth and gums are key to keeping your pet healthy? Just as with humans, dental disease stresses the immune system and weakens liver, kidney, and heart function. That's why we brush and floss every day, right? Well, and good smelling breath.
At Glove Cities Veterinary Hospital we take a methodical and caring approach to your pet's preventative dental care. For cats and dogs, a teeth cleaning and examination involves a few steps, which we explain in detail to pet parents before the exam.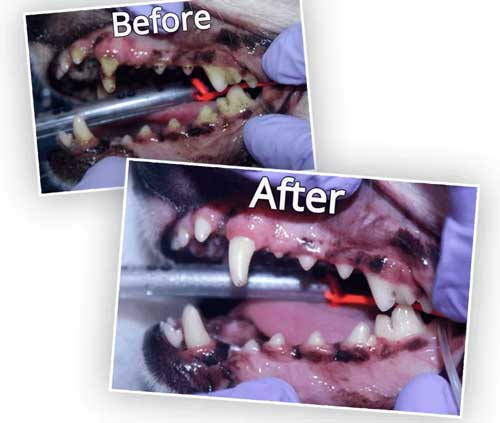 Yes, having your pet's teeth and gums cleaned involves anesthesia, and this can be stress-inducing for pet parents. But did you know the number one health problem diagnosed in 8 out of 10 cats and dogs over 4 years old is periodontal disease? That's why we believe preventative dental care is of the utmost importance, and our Licensed Veterinary Technicians are highly skilled in administering and monitoring the anesthesia.
Once your pet is safely under anesthesia, we take a full set of x-rays, clean them with the ultrasonic scaler, and polish their teeth.
If we find a problematic tooth during the exam, the doctor will surgically extract that tooth during the procedure. Any extractions will be closed with absorbable sutures that allow for quick healing.
We also use a Laser Therapy technology that keeps inflammation and swelling low.
Pain medication and antibiotics will be supplied for your pet if necessary, and we will provide you with helpful tips for at-home dental care for your loved one.
Call us at (518) 725-8117 to schedule your pet's oral health assessment or dental cleaning.